The group expressed support for the ongoing petitions against the results announced.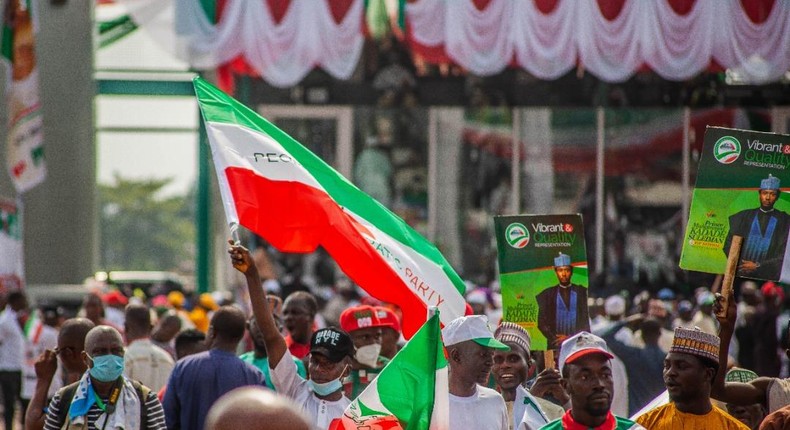 A pro-democracy group, the Leadership League, has congratulated governors-elect, senators and other lawmakers elected on the platform of the People Democratic Party.

National caucus members of the pro-PDP group, Ms May Ubeku, Mr Ose Anenih, Mr John Shuaibu, Mr Babasola Kuti, Mr Ayokunle Adekunle and Bashorun Abimbola Koju, who made the call in a statement issued in Abuja,charged the elected officials to deliver on their electoral promises.
"We extend our heartfelt congratulations to Governors Ahmadu Umaru Fintiri of Adamawa, Bala Mohammed of Bauchi, Governors-Elect Dauda Lawal of Zamfara State, Kefas Agbu of Taraba, Peter Mbah of Enugu, Sheriff Oborevwori of Delta and Umo Eno of Akwa Ibom on their well-deserved and hard fought victory.
"We also congratulate elected Senators, House of Representatives, and House of Assembly members who won in their various constituencies across the country," it said.
While expressing its appreciation to Nigerians for entrusting the PDP with their votes, it charged the elected officials to embark on developmental projects that will impact the electorates and the country at large.
It implored PDP elected officials to step up and go above and beyond to ensure that they lead with integrity, transparency, and accountability.
"As a Group committed to promoting leadership excellence and good governance, Leadership League believes that effective leadership, transparency, and inclusivity are essential for the betterment of societies, and we encourage the governors-elect and other officials to prioritize the well-being and interests of all citizens in governance.
"We also would like to express our deepest appreciation to the Nigerian people who participated in the democratic process. They have helped in shaping the future of their states and we thank them for their unwavering support and trust in the PDP.
"The decision to elect these PDP Governors and officials is a reaffirmation of the confidence Nigerians have in the PDP ideology; to promote democratic values, foster economic growth, and improve the lives of all Nigerians," it added.
The League which condemned what it termed electoral malpractices in the governorship poll in Ogun, Nasarawa and Kadua, expressed support for the ongoing petitions against the results announced.
"We stand in solidarity with the affected PDP gubernatorial candidates, Ladi Adebutu in Ogun, David Ombugadu in Nasarawa, and Rt. Hon. Isah Ashiru in Kaduna and express our commitment to the process that would lead to the recovery of their mandates.
"We urge party faithful, supporters and the electorate to remain unwavering as the League strongly believes the people's stolen mandates in these states will be retrieved through the courts," the Leadership League noted.
JOIN OUR PULSE COMMUNITY!
Our newsletter gives you access to a curated selection of the most important stories daily.
Welcome to the Pulse Community! We will now be sending you a daily newsletter on news, entertainment and more. Also join us across all of our other channels – we love to be connected!
Unblock notifications in browser settings.