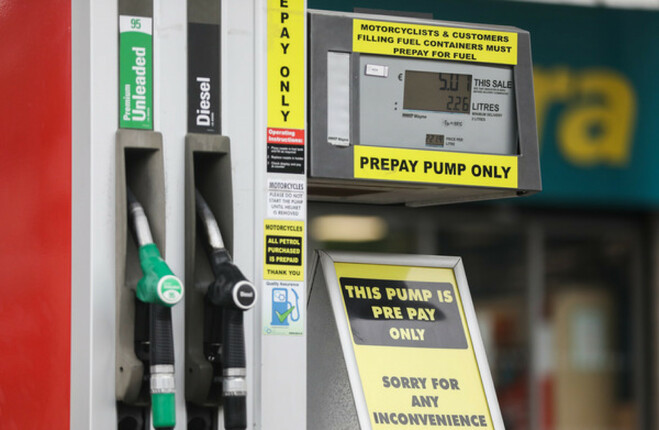 Leah Farrell/RollingNews.ie
# forecourts
Full tank of petrol to rise by €3.60, diesel by €3 as excise duty cuts expire at midnight
Rates were cut last March and will return to previous levels in three increments.
EXCISE DUTY RATES will increase by 6 cent per litre of petrol and 5 cent per litre of diesel at midnight tonight as excise rates begin an incremental return to their levels before a cut came into effect last March.
Rates were cut on 10 March by 20 cent per litre of petrol, 15 cent per litre of diesel and 2 cent per litre of marked gas oil, and will gradually return to previous rates in three increments.
Two further increases are planned for 1 September and 31 October.
Rates will increase by a further 7 cent for petrol and 5 cent for diesel in September and October's  final increase will mean an increase of 8 cent for petrol and 6 cent for diesel.
Then-Minister for Finance Paschal Donohoe said in March 2022 that filling a 60-litre fuel tank should be €12 cheaper for petrol and €9 for diesel.
The cut to excise duty was announced as prices were close to €2 a litre – an increase of 44% for petrol in a year, and a 54% increase for diesel.
Consumer tax manager with tax adviser site Taxback, Marian Ryan, said that it was too soon to return to the pre-March 2022 rates.
"The return of excise duty norms poses a serious risk to households as they continue to grapple with higher energy costs," she said.
"Although some people might try to cut back on using the car in the summer months by biking or walking to work and school, for a lot of people, this is simply not possible. Families living in rural locations will be particularly hit with these reinstated prices."
Taxback's Taxpayer Sentiment Survey found that almost seven out of ten people believe the Government should continue with the current reduced excise rates on petrol and diesel and not restore them to their original rate.
Ryan continued: "Pump prices have started to fall in recent months but sadly, the upcoming excise duty hikes mean that any relief felt by motorists in their pocket will be short-lived."
"The Government should not be lured into a false sense of security as a result of the advent of summer. The upcoming excise duty increases will push up the cost of living for many people and as we all know, the Irish summer is a short one."
Last March, Paschal Donohoe announced that the cuts were estimated to cost the state €320 million in lost taxes.
Petrol prices for this month were 157 cent per litre, according to AA Ireland's National Price Index, with diesel costing 147 cent per litre.
Fuel reached a peak last June at 213 cents for a litre of petrol and 205 cents for a litre of diesel.