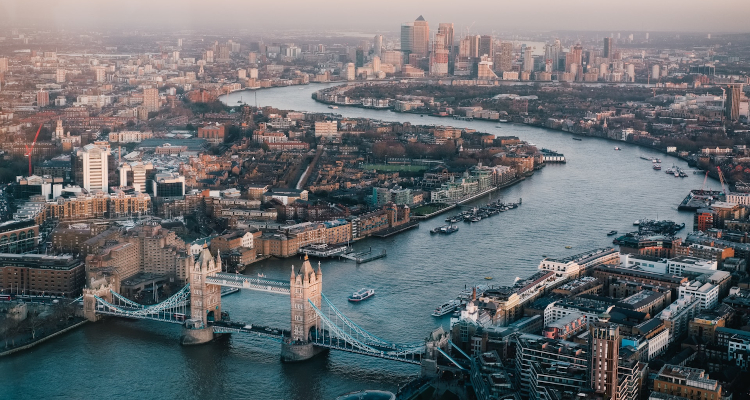 London, England. Photo Credit: Benjamin Davies
In late July, the UK's Competition and Markets Authority (CMA) decided against launching a full-scale investigation into streaming and the wider music industry. Now, the government agency has explained the decision in a 165-page-long "final report."
The CMA just recently published the comprehensive analysis, which covers everything from the organizational structure of the music industry to the nuances of the songs featured on streaming services' playlists.
(Regarding the latter, 50 to 60 percent of overall UK streams on Spotify are said to have derived from user-curated playlists during 2021, against five to 10 percent for editorial playlists and only 10 to 20 percent for non-playlist tracks. Plus, certain major-label licensing deals reportedly "contain obligations on the music streaming service to ensure that a major's share of tracks within some playlists broadly corresponds to its overall share of streams.")
In brief, regarding the multifaceted report's background, a British parliamentary committee in October of 2020 kicked off a much-publicized inquiry into the music landscape, eventually wrapping said inquiry with a 115-page-long "final report" of its own.
Published in July of 2021, after a number of artists informed the committee of their financial difficulties, the breakdown called for a "complete reset" of the music industry. These findings then set the stage for the start of the CMA's market study in October of 2021.
But as noted, the CMA ultimately opted not to pursue a full-fledged probe or take regulatory action against the major labels. In its July of 2022 preliminary report, the entity indicated: "Given the evidence on positive outcomes for consumers, the lack of sustained excess profits of record companies, and the declining share of music streaming revenues paid out to rightsholders, our current view is that the limited competition in the supply of music to music streaming services is not a substantial cause for concern."
Predictably, the CMA largely reiterated and elaborated upon this position in the newly published (and far longer) of the documents, specifying that while "there are some areas of the market that could be improved…overall outcomes for consumers, artists and songwriters are getting better."
Furthermore, CMA officials acknowledged that "many creators struggle to make a decent living from their profession" and "artists need to work harder than ever to grab listeners' attention" today.
"However, because we have found that it is unclear or unlikely that the alleged poor outcomes that concern many stakeholders are primarily driven by how firms compete with each other," the lengthy document reads towards its end, "it is consequently unlikely that a competition intervention of the sort available in a market investigation will suitably address them.
"In a market that is currently delivering good outcomes for consumers there is a risk that intervention using competition tools, without confidence that a lack of competition is the root cause of the problem, could threaten existing good or improving outcomes," the text drives home in explaining that the CMA doesn't intend to "break up the majors, intervene in historic contracts between artists and labels," or take other such steps.
Notwithstanding this essential confirmation of the conclusion that was reached over the summer, the CMA did touch upon and quantify several interesting subjects in its voluminous final report, which relays that streaming services' average UK revenue share has increased from 26 percent to 32 percent since 2017.
In 2021, there were 39 million monthly active users (MAUs) on music streaming services in the UK, according to the breakdown, with 138 billion streams attributable to domestic listeners on the year. Additionally, Spotify is said to have accounted for 50 to 60 percent of UK music streaming revenue in 2021 when calculating the total without factoring for YouTube's user-uploaded content.
(Apple Music laid claim to just 10 to 20 percent of these 39 million users in 2021, according to the document, or 3.9 million to 7.8 million subscribers in all of the UK.)
"As such, thousands or even millions of streams are now commonplace – 12 million [UK] streams per year will earn an artist around £12,000 a year," the document claims, basing the total upon "data from the majors" and excluding any music industry "earnings from overseas or from other sources such as live performance or publishing rights."
Expanding upon the latter, the document appears to confirm that even major-label acts take home an astonishingly small amount from streaming yearly, as leading services' song libraries continue to grow rapidly. "There has also been a small increase in the real average earnings of all artists on the books of majors (it remains relatively low with the overall average annual income in 2021 at around £2,000)," the analysis communicates, referring specifically to streaming.
(The CMA, citing its own examination of data received, proceeds to chart the lengthy road to recoupment for artists with one million monthly streams and a standard record deal, before illustrating in a graph that 500,000 monthly streams will prove insufficient for many artists to recoup over the course of 10 years.)
Lastly, the report attaches numbers to multiple interesting (albeit widely known) points. The Big Three possess a stake (partial or full) in the recording and/or publishing rights behind a staggering 98 percent of 2021's top-1,000 UK singles, the text shows, once again citing "data from the majors."
And each major label's share of total UK streams is said to have remained nearly flat between 2015 and 2021 – 30-40 percent for Universal Music, 20-30 percent for Sony Music, and 10 to 20 percent for Warner Music.